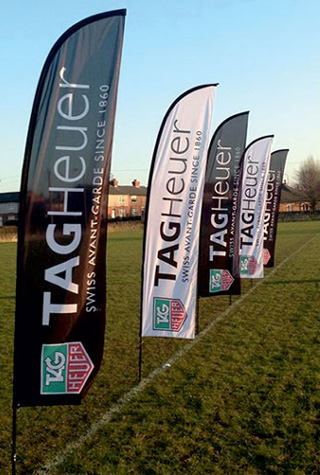 Flag/feather banners that Flutter and rotate in the wind
Suitable for interior and exterior use
High performance carbon fibre poles
Lightweight, portable and easy to assemble
Available in 3 stock sizes
Printed flags available to order
Choice of mounting accessories available including cross base & water bag, ground spike and wheel base
Black canvas bag supplied with each pole includes compartments to store flag, ground spike and water bag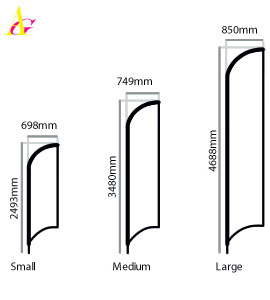 Our standard flag material is a 115gsm close weave knitted polyester textile, chosen for its durability and image vibrancy.
For optimum performance, a 135gsm 'airmesh' material is also available which, thanks to small holes in the fabric, presents less resistance in the wind.

All flags are printed by 'dye-sublimation' which uses special inks and undergoes a post-print heating process to 'fix' the ink into the fabric, making it scuff resistant and washable and maximising show-through on the reverse.

Outdoor Performance
Naturally, Flying Banner life span depends on how and where they are used. We recommend taking them in overnight and avoiding use in inclement weather (i.e 24+ mph wind speeds/Beaufort scale 6). Teardrop flags can last longer than Feather flags as the banner fabric is held in tension and experiences less movement.