Lorry Graphics service
Lorry graphics are constantly on our roads and motorways and can be seen from great distances and as such, they provide the ideal space to make exciting graphics which will really get you noticed on the road.
At Action Graffix we help you create bespoke designs that make the best use of the whole space of your vehicle, no matter how big it is. We work with you to get the look you want in the budget you set; we can help get your brand noticed.
Whether you are looking to add vehicle graphics to a lorry, truck or box van, we have installed many lorry graphics for fleet vehicles in West Wales.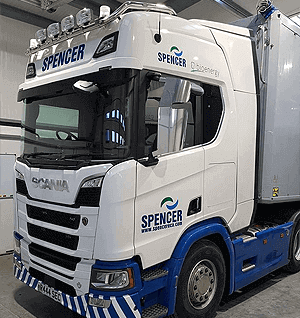 Using full-colour graphics, cut vinyl, and reflective high visibility markings; we can produce large lorry wraps or smaller lorry decals and bus stickers. Lorry graphics are fitted to lorries and larger commercial vehicles as part of the Action Graffix fleet branding and vehicle livery service.
Smaller Truck Graphics Carmarthenshire and Ceredigion areas
We offer smaller truck graphics and bus decals when you only need a certain section (like the back doors) wrapped. We also produce bus stickers and decals with the option of a one-way vision film.
We can completely author your designs or work with your design partner to get you the lorry graphics results that you are looking for.
With a variety of different material options and styles, we can install bright, eye-catching displays of fleet branding in a singular lorry wrap or individual lorry decals. Transport consortium or independent fleet, we help you advertise your business in the greatest possible way.
We also offer van graphics and shop signs to complement the lorry livery service.
Other Large Vehicles we have completed vehicle livery for include busses and large plant machinery.